According to my rigorous habit of blogging every month or so, it's time for another post.
It's been a weird summer, not all bad (despite my divorce)–in some respects, very good. But not very productive writing-wise.
However, now black walnuts are falling from the trees, the temps are settling down to a chilly 90 degrees with fifty-two-thousand percent humidity, the town is filling with returning students, and the fairgrounds roar with the guttural music of the National Tractor Pull. Fall is coming; brain is waking; life is calling.
On the professional front, I'll be at Dragon*Con in Atlanta over the Labor Day weekend. I just got my schedule, which I'll put below the jump.
On the home front, it looks like I'm going to have to move the Fortress of Engitude to a new location posthaste. (Fortunately, like Shadowguard in Zelazny's Jack of Shadows, it's portable and goes wherever the hero/villain resides.) I have some photographic evidence, which I'll also put after the jump.
Here's my schedule at Dragon*Con:
Friday, 11:30 AM: The Physics of Your Magic about how magic systems tend to work in fiction.
Friday, 7 pm: Pyr Books panel
Saturday, 10 pm: A Tour of Known Space – a discussion of the works of Larry Niven
Sunday, 9 AM: Stroll with the Stars. (I assume the magniloquent title refers to these other guys who'll be there.)
I'll be manning the Pyr booth at some point, too, but I'm not sure when that'll be yet.
And now: this.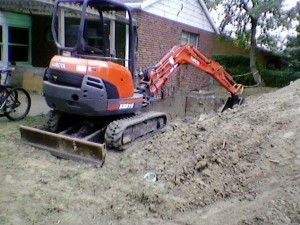 Last week our landlady discovered foundation problems when she was trying to rent out the basement apartment. The past few days have been pretty bad, with sewer problems, jackhammering, backhoeing, front-hoeing for all I know. And, as it looks like this joy is going to spread all around the house, like Christmas only slower and noisier, my kids and I are looking at getting out of here soonish.
Naturally, we would have to go looking for a place in the week when the population of the town doubles. We did the same thing when we moved to the Great Black Swamp thirteen lucky years ago, now. Destiny. Destiny. No escaping. That's for me.
Still, this could be a good thing in a couple ways, there being some bad vibes associated with the current location of the Fortress. I don't really believe in vibes, but sometimes they don't care whether I do or not.
And that's the news from Lake Engebegone. Now off to another sign of approaching Fall, a faculty meeting. Later: wine and conversation with the Awesome at the Toledo Museum.