… was a blast. That's what it's for, I guess.
I flew in on Friday evening, met Diana, my partner in crime, at the airport, then rolled into town to check in. The con hotels were all full when I booked my room in July, so we ended up at the Regency Suites, three stops north of the con on the subway.
Last year's check-in process was a megillah, wrapped in a disaster, inside a snafu. I was dreading something like that or worse this year… but instead I sailed through and got my (pre-registered) badge in minutes. NOT HOURS. Even the same-day registration lines were efficient and swift-moving. I have no idea who is responsible for the change, but they should get some kind of Nobel Prize. (In Peace? Economics? That has a "con" in it, anyway.)
That night we had dinner at the French American Brasserie. It was pretty good, I guess. (From a Minnesotan, that's a four star review.)
It was great to see Lou Officially-the-best-longform-editor-and-he-has-the-Hugo-to-prove-it Anders, whom I hadn't seen since before he won the Hugo for Best Editor, Longform, which he won recently at Worldcon, where they give out the Hugos. He regaled me with tales of Renovation and Armadillocon.
Also great to see the Pyr/Prometheus crew out in full force this year: Jill and Lynn from Prometheus, and Rene Sears, just starting her second year on the editorial staff at Pyr, and new Pyr copyeditor Gabrielle Harbowy.
I nobbed and hobnobbed with fellow Pyr authors Sam Sykes, Ari Marmell, Erin Hoffman (and her husband Jason, a great guy), Clay & Susan Griffith, Andrew Mayer and also Jon Sprunk, whose fiendish plot known only as the Great Sprunkening proceeds apace.
I even signed a few books at my signings, and had some great conversations with readers about history, werewolves, zeppelins, magic, and other related matters.
I had no panels scheduled for the convention, but I ended up at two anyway: the "Pyr: Burning Bright" panel on Sunday afternoon, and the panel on "Blood and Steel: tales of swords, sorcery & grim adventure", which I was invited to crash by Lou. Was I going to argue with him? The man has a Hugo.
At the Pyr panel, the audience and I simultaneously got the first glimpse of the cover for A Guile of Dragons, the new Morlock novel due out next summer. (The first draft is done. It's pretty rough in spots, but it looks like I'll make my deadline. I don't post updates here, usually, because, eh, I don't usually do that.) The cover looks really cool… I guess you'll have to take my word for it, for the time being.
The sword and sorcery panel was interesting. There was a general sense in the room that genre distinctions don't matter. I sort of disagree with this (although I think people can make too much of them), so I expect I made a contrarian jerk of myself. Lots of good things were said, by panellists and audience members (which included Moses Siregar); it was a very freeform question-and-answer thing.
The thing everyone agreed on, even me, was that grit was the thing. Whether it was S&S or epic fantasy, grittier backgrounds and grimmer, more compromised characters are now the thing.
I agreed, but then I found myself thinking twice. If everyone agrees on something, it must be wrong! Besides, grit is becoming so universal that it's less like dirt and more like those industrial-colored cosmetics some people wear. If everyone is zigging, maybe it's time to zag. So from now on all my stories will be about parfait gentil knyghtes. "Down these mean streets a man must go…" etc. Until I get bored with that.
The lines for media panels were nightmarishly long; we didn't even think about seeing the Shat or any of the other big names. But the Art Show was fun–the usual mix of the awful ("Look! I can draw tits! VERY BIG TITS!") and the weirdly wonderful. Michael Whelan was the Artist Guest of Honor and he had some beautiful pieces on display. There was some interesting creepy/cartoony art by Gus Fink and Dante DeStefano also.
One of the best things about Dragon*Con, but the hardest to communicate, is the otherworldly carnival atmosphere. There were some guys running around with protest signs, for instance, doing a pretty good parody of those Westboro scumbags.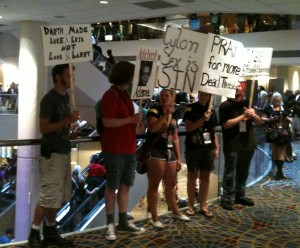 Then there are the guys in costume. They varied from the perfunctory ("I'll throw on a Star Trek shirt!") to the kind of thing people work on for the better part of a year. Here's my partner-in-crime posing with Dr. Rockzo and Zazz Blammymatazz. I wish I had an audio: that guy had the Leonard-Rockstein voice down pat.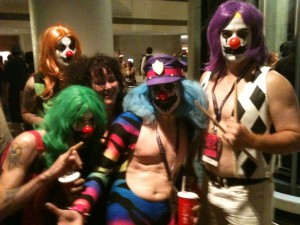 And here's Diana being terrified by a Dalek, as we were on our way to dinner with the Pyr crew.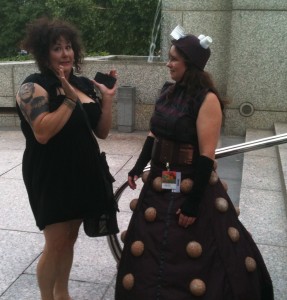 A wildly fun weekend. I would say attending next year is a sure thing… but I don't think I can bring myself to pass up on Chicon. The World SF Convention hasn't often been (and won't often be), that close to the Fortress of Engitude. I'll probably wait until too late and make my decision with a coin, as usual.