Having gotten married and having moved all our worldly possessions to one flammable location, and placed them under the protection of a pair of fire-breathing slavering beasts and a gang of meth-addled bikers, Diana and I flew off to Italy for a few weeks of workingvacationmoon.
I always give the customs people at Amsterdam a good laugh. Last year it was my underwear. This year they were curious about an electrical device cunningly hidden in my copy of Norwich's History of Venice. I guess it looked suspicious on the x-ray when they saw I had a flat electronic device, about the size of a page, secreted inside a book. When the young woman searching my bag realized it was an e-reader, she laughed almost hysterically and had to show all her co-workers: Hey, an e-book inside a paper book! At that point I decided not to leave her a tip.
This year the Castello d'Engitudine is a palatial residence, just off Via Nomentana. We're very happy with it. It's about a mile from Piazza Bologna, where Centro Linguistico Italiano Dante Alighieri is located–that's the school hosting this year's ASA Italy program.
Last night we wandered down to Pizza San Marino, a pretty good pizzeria marred by some mediocre service. Our waitron would disappear mysteriously for long stretches of time, but we were helped out in the interval by other people on the staff. And their Pizza Capricciosa was good enough to cover a multitude of sins.
Today we met some of the great people at CLIDA who, it just occurred to me, might not want to be blogged about, so I'll ask them before I mention them here.
Then I thought we'd hop on the subway and run around the city a bit. But the gates on the station at Piazza Bologna were down. Okay, I figured–it's probably maintenance or something; we'll take a bus to the next stop. But the buses were bizarrely slow, even for Rome, and we ended up walking to the next Metro stop… which was also shuttered.
My mind was aglow with whirling, transient nodes of thought careening through a cosmic vapor of invention, and not in a good way. I didn't know if I could run the ASA Italy program from Piazza Bologna if the Metro B line was down and the buses decided to be unreliable.
When we finally got to Stazione Termini, the answer was staring me in the face: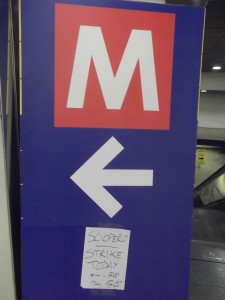 It's one of Italy's patented one-day transit strikes. No problem! At least as of 5 PM. I talked to one of the union reps who was fielding questions from angry tourists, and he assured me it was just for the day. He also declined to have his photo taken, but you can hardly blame him. This is not a day when transit workers are very popular in Rome.
We took a taxi home and I laid in some supplies.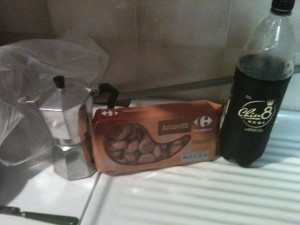 Because you buy necessities first, then luxuries.