In the course of eviscerating one of Robert Sheckley's early stories, James Blish penned (or typed, more probably) the immortal line "they look like rabbits, but if you call them smeerps that makes it science fiction." This made its way into the famed (and partly infamous) Turkey City Lexicon as an injunction against "false exoticism."
I thought about this recently when xkcd published the fiction rule of thumb" (embedded approvingly by John Scalzi on Whatever):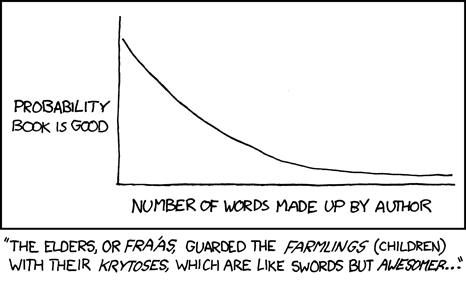 The first time I saw it I sort of shrugged: I know where the complaint comes from. You don't call a rabbit a smeerp.
But it bugged me, too, because you also shouldn't call a smeerp a rabbit. Say your heroes ride vipplequangs around, and a vipplequang is like a horse–except it's a kind of lizard and whenever the three moons are aligned in the sky it turns into a relentlessly carnivorous land-fish that is prone to devouring its rider. Should you call it a horse just to make it easier on the reader? Obviously not. It doesn't really do that, for one thing, if the peculiarities of vipplequangs are important for some story you're telling.
Also, people read SF/F, in part, to enter a landscape that has vipplequangs not just horses and smeerps not just rabbits–other worlds, with real exoticism, not false exoticism. SF/F that doesn't meet that test, that makes imaginary reality into an unfunhouse mirror of the mundane, may have other virtues that make up for this glurky sucking quality that reeks of fail. Or, you know, may not. It's a case-by-case thing.
Either way, I argue that the proposed rule-of-thumb be rejected. Everyone gets to make up as many words as they want for their stories; success or failure depends on whether it's well done or badly done, nothing else. (And, from what I've seen, Stephenson does it well in Anathem and xkcd's criticism is the sound of someone not getting it. But I've only read excerpts so far, so take that with a pinch of salted thumb.)