1. I released my dirty white canvas sneakers out from their winter storage facility (i.e. I excavated them out from under a pile of Walter Scott novels that had collapsed in a bookalanche) and wore them into work today. So it's totally and unashamedly and legally spring. Skeptics will require proof of these assertions, as well they might.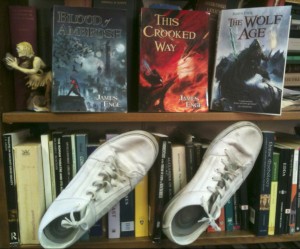 2. I was the guy on the griddle last night at #sffwrtcht on Twitter. A rough transcript is here, for those who are interested but don't tweet. Bryan plans to post a cleaned-up version as a kind of interview later on.
3. Happy Parilia to you, and happy 2764th birthday to Rome. She doesn't look a day over 2700, if you ask me.